Davinci IQ Portable Vaporizer
8.6

/10
(Expert Score)
Premium portable vaporizer  that uses a zirconia mouthpiece for tasty, pure and clean vapor
Includes a whopping 10 year manufacturer's warranty
Ultra-portable dry herb vaporizer at an affordable price, get yours today
Davinci IQ Portable Vaporizer
Description
One of the best portable vapes to ever hit the market, the DaVinci IQ, is now available for purchase in the VapeFuse.com online store!
Winner of our '2018 Hottest Vape' award in the 'Best Vaping Technology' category, the DaVinci IQ is one of the most impressive portable vaporizers the herb vaping experts at VapeFuse have ever come across.
The DaVinci IQ Portable Vaporizer's ceramic and zirconia vapor path has been optimized for flavor and produces some of the tastiest herbal vapor we've ever experienced. It's immaculately pure baking chamber and additional centrally-located flavor chamber work in unison to deliver a super-cool vapor with a sweet herbal flavor.
With a name like DaVinci, you'd expect the DaVinci IQ Vaporizer to be incredibly inventive, and it doesn't disappoint! The removable flavor chamber, constructed from pure zirconia, has an opening in the base where you can stash fresh herbs to improve the flavor of your vapor.
If you're dealing with mids or herbs with low-quality terp profiles, try and introduce some dried jasmine or lavender into the mix. This will improve the flavor of the vapor and give you some residual relaxation. If you're lucky enough to have access to top shelf, packing a little bit of ground-up herb that you're planning on using for the next session into the flavor chamber will generate PHENOMENAL tasting vapor. It is unbelievable how much of a difference the little condenser makes, I highly recommend using it!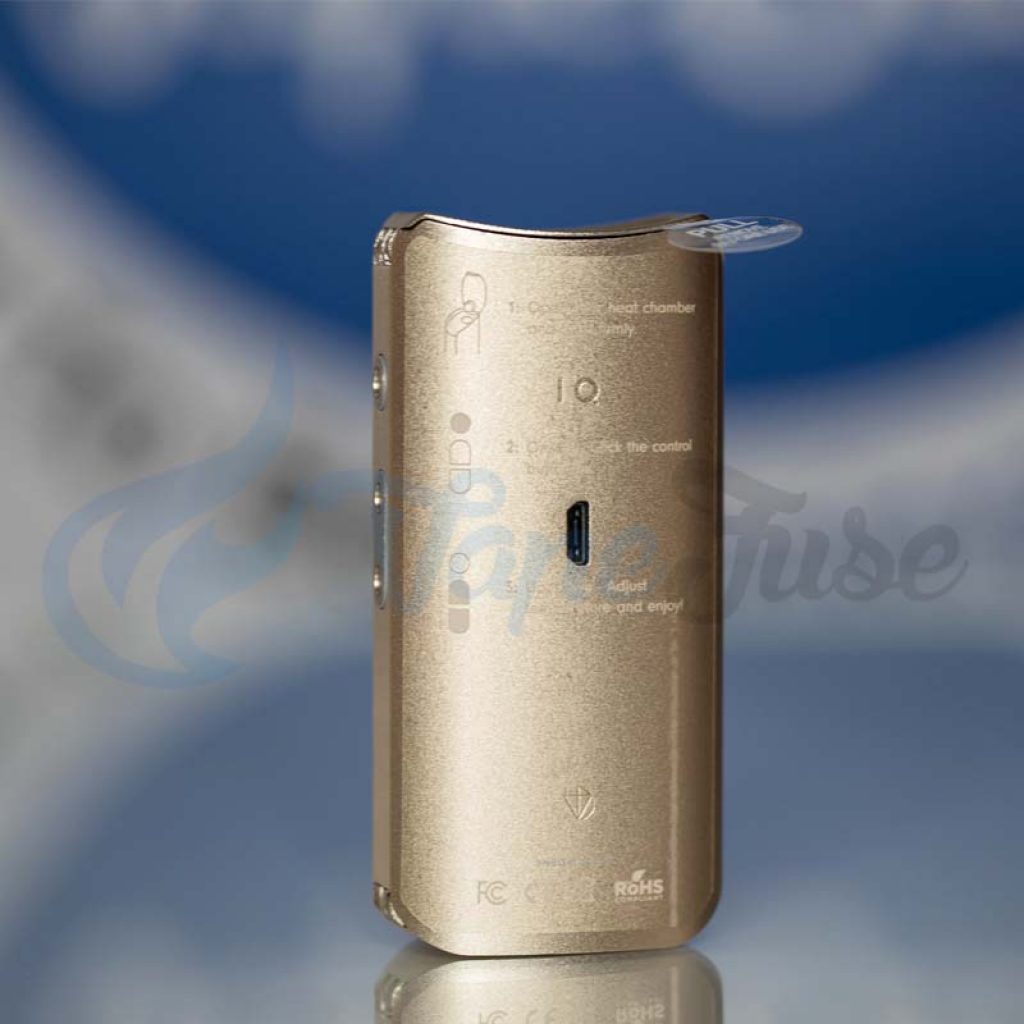 The DaVinci IQ has a downloadable app that is super user-friendly. It allows you to set the temp, create time-sensitive smart paths, check out your session history, or even browse through the online store! Its ingenious smartphone application is one of the major reasons the IQ won our 2018 award for 'Best Vaping Technology,' with its accessory pack being another major decision maker.
DaVinci's accessory pack is better than any I've come across. The orange finish that is exclusive to the IQ line is maintained throughout the whole kit, and it includes a number of disguised packing tools, even including a tiny concealed packing rod located underneath the vaporizer's mouthpiece.
Portable vaping technology has been perfected. Scoop up your very own DaVinci IQ Portable Vaporizer from the herb vaping experts at VapeFuse.com and get vaping today!
Included in the DaVinci IQ's Kit:
1 x DaVinci IQ Portable Vaporizer
1 x Keychain Tool
1 x Micro USB Charging Cable
1 x Plug-Style Cleaning Brush
1 x Herb Carry Can
1 x 3500mAh Battery
1 x Water Tool Adapter/Mouthpiece Extender
10 x Alcohol Cleaning Wipes
1 x User Manual
A very good herbal vaporizer
A well designed and built vaporizer with some impressive features and great vapor quality.
PROS
Very well designed and presented product
Smart-path temperature control for automated full spectrum vaping
Can be controlled by a mobile app
Slides into your favorite glass piece
CONS
Gets a little hot after a few sessions